Open Source
Better Achievements
Add to wishlist
Added to wishlist
Removed from wishlist
10
Better Achievements:
Works with any framework.
No database required.

Immersive

: An in-game addition focused on actual gameplay moments, rather than default achievements – spare some time to kill your boredom in more effective way.

Global

: Your achievements data is stored profile-wide, meaning the progress is saved between servers with the same module.

Flexible

: You can create your own custom achievements and use the module functionallity with just one function call.
Configuration:
You can specify a default key to call user interface (default: TAB).
You can create your own achievements (will be listed first):

You can specify title, description, reward description.
You can specify milestones (aka needed amount).
You can specify reward code-action for completing the achievement.
You can specify if achievement is secret and is hidden until achieved.

Localization stringtable (built-in EN/RU localization).
Additional Information:
List of Achievements (EN)

Friendly in Cherno? – Spend total of 10 hours playing on the server.
Seasoned – Spend total of 100 hours playing on the server.
I Need a Stick – Spend total of 500 hours playing on the server.
Listen Kid – Spend total of 1000 hours playing on the server.
Tourist – Travel 10000 meters by feet.
Rider on The Storm – Travel 50000 meters being a driver of a land vehicle.
Helicalypse Now – Travel 100000 meters being a pilot of an aircraft vehicle.
Ain't no Landlubber – Travel 25000 meters being a driver of a watercraft vehicle.
Lead Rain – Perform total 10000 shots from an infrantry weapon.
Full Metal Jack It – Perform total 20000 shots from an vehicle weapon.
John Sick – Reload any weapon empty magazine 500 times.
Boom Baby! – Throw 100 grenades.
The World is on Fire – Throw 500 grenades.
Low Profile – Pilot any aircraft at 3 meters over the terrain with vehicle speed higher than 200km/h.
Hello World – Perform a halo jump from a height of 500 meters above the ground.
Smack-o-Hummer – Destroy total of 25 land vehicles.
Flight Delayed – Destroy total of 25 aircraft vehicles.
Down It Goes – Destroy total of 25 ships.
Strength in Numbers – Be a part of a group with total of 10 members.
One Man Harmy – Experience explosion damage 100 times.
Give me a Break – Experience explosion damage 500 times.
Get Tu Da Choppa – Enter an aircraft vehicle being exhausted.
All Dressed Up – Equip every inventory slot at the same time.
This Is Fine – Get burn damage 100 times.
Hoarder – Put 1000 items inside any storage (not ground).
Grabber – Take 1000 items out of any storage (not ground).
Maximum Payne – Suffer total of 2500 cumulative damage.
Hold my Throttle – Switch controls to your co-pilot.
Bump Theft Auto – Bump your vehicle into any obstacle 100 times.
Me Stake – Accidentally kill yourself with your own infrantry weapon.
Itchy Finger – Accidentaly kill yourself with your own grenade.
Ergonomy Failure – Be a driver of a vehicle left without fuel.
That Escalated Quickly – Be a witness of 10 buildings go down ruins (you must be standing on the ground).
Not Smart Enough – Kill a player that recently launched a guided missile at your aircraft.
Here Kitty Kitty – Kill 50 animals.
Not Again – Let somebody take over your vehicle 25 times, who needs a keys right?
Fire It Up – Start engine of vehicle 250 times (vehicles should be different).
My Dudes – Occupy every vehicle seat with your teammates (at least 4 seats vehicle).
Stop Trying to Hit Me – Fire 1000 rounds of aircraft countermeasures.
Hollywood Blockbuster – Fire 500 rounds without reloading.
250 Noscope – Fire 250 rounds from a sniper rifle not using scope or sights.
Gotta Go Fast – Reach supersonic speed using aircraft vehicle.
+8 Secret Achievements

Only logged in customers who have purchased this product may leave a review.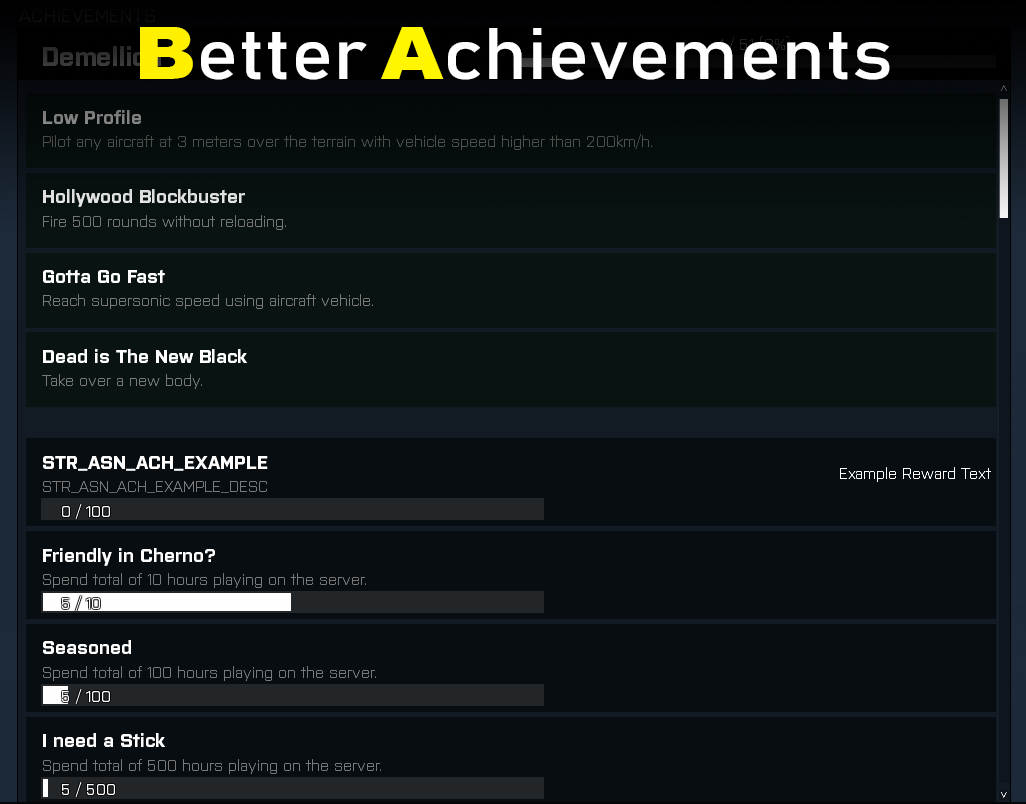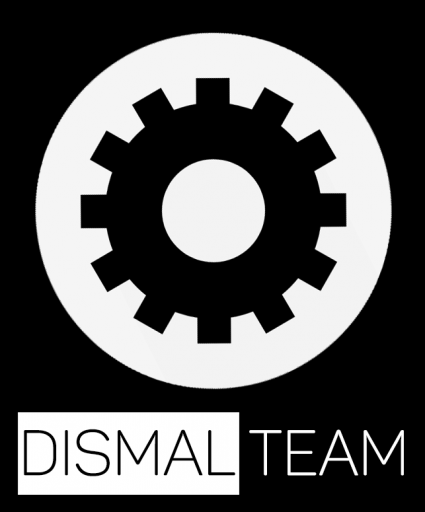 Add to wishlist
Added to wishlist
Removed from wishlist
10